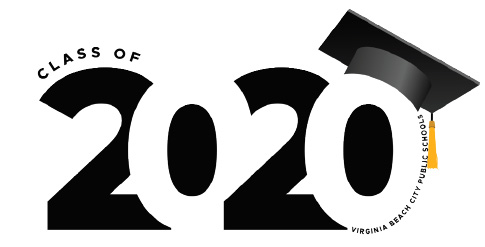 While the global pandemic has prevented traditional graduation ceremonies for the Class of 2020, Virginia Beach City Public Schools (VBCPS) will be celebrating their graduates throughout the month of June.
"We're so excited to be able to give our students what they have worked so very hard for," said Superintendent Dr. Aaron Spence, "a citywide, meaningful experience that honors every single one of our seniors with the celebration they deserve. We want our graduates to know just how proud all of Virginia Beach is of their accomplishments."
After receiving feedback from senior class officers, principals, student activities coordinators, and graduation planning staff from all Hampton Roads school divisions, and reviewing models from other programs nationwide, VBCPS settled on a monthlong series of events and displays planned throughout the city that congratulates the efforts of more than 4800 young people.
Between June 17 and June 20, every high school will host an individual graduation ceremony for each student, allowing the graduate to hear their name called, walk across a stage in their cap and gown, receive their diploma and have their picture taken. Each school will work with seniors and their families regarding the specific time for their walk, a guest list of no more than 10 people, and the appropriate social distancing protocols that will have to be maintained. Commemorative programs will be created, and each student will be provided with copies for their family.
Other features of the "Month of the VBCPS Graduate" include:
A special VBCPS Graduation 2020 website, where each school will post a virtual ceremony video tribute, featuring a welcome from the principal and superintendent as well as speeches from the valedictorian and salutatorian. All candidates for graduation will be featured with their own personal slide as part of the virtual ceremony. Each school will work with seniors and their families regarding specific details. Videos will be available beginning the second week of June. A schedule for these virtual ceremonies will be announced soon.
A special Class of 2020 "Pass the Diploma" video, featuring students from each of the high schools, scheduled to debut on the division's YouTube channel the week of June 1.
From June 9-June 13, VBCPS will "Light Up the Night," as each high school stadium illuminates their field lights at 8:20 p.m. for exactly 20 minutes and 20 seconds, while "2020" is displayed on the scoreboard.
Businesses and residents are encouraged to join in the "Light Up the Night" celebration by lighting up their buildings and homes from June 9-June 13.
VBCPS is also working with community groups and businesses to display special tributes to graduates on prominent marquees in the city.
Each of VBCPS' 87 schools and centers will display special graduation tributes to the Class of 2020 on their marquees.
A celebratory yard sign will be given to every graduate.
The VB Grad Wall will once again allow families and friends to post inspirational messages for the Class of 2020 on the division website by using the hashtag #VBGrad2020 on social media.
Businesses and residents are also encouraged to join in the monthlong celebration by displaying signs and sharing congratulatory messages on social media, using #VBGrad2020.