All of Virginia Beach City Public Schools' (VBCPS) 82 testing sites are projected to earn state accreditation again for 2022-2023 following the Virginia Department of Education's (VDOE) release of preliminary Standards of Learning (SOL) test scores and school quality indicators data last week. The data shows VBCPS outperforming all local districts in reading, writing, math and science. The division also outperformed seven other comparable divisions in Virginia in reading and mathematics for the first time in recent history.
"While we expected a drop in scores given the enormity of the circumstances we've faced the last two years, the fact that we're still projected to maintain 100 percent accreditation is something we're extremely proud of," said VBCPS Superintendent Dr. Aaron Spence. "It is a testament to the dedication and effort by our educators and the resilience of our students who have all worked tirelessly to overcome some truly unprecedented obstacles. I can't thank our teachers and staff enough for the outstanding work being done in our classrooms to build up each individual student through strengthening relationships, transformational learning, and the focus on social and emotional needs. Results like this are proof that it all makes a difference!"
The preliminary data continues to be reviewed by staff and will be used to guide division and school level planning for the upcoming school year with an intense focus on improvement and continuing to meet the needs of all learners. "We embrace the challenges presented in the data while celebrating the incredible efforts of our educators, and if the state wishes to change the rules of accountability in the coming years, we will embrace that challenge as well. VBCPS has been and will continue to be a world-class school division," Spence said.
Dr. Spence is holding a Q&A session for media to discuss the findings on Tuesday, August 23, 2022 from 10:30-11 a.m. at the school administration building, located at 2512 George Mason Drive, Virginia Beach, VA 23456. There will be a virtual option available as well. Members of the media are asked to RSVP whether attending in person or virtually to Julie Braley at [email protected].
Topic: Q&A with Dr. Spence
Please click the link below to join the webinar: https://vbschools.zoom.us/j/88616017925
Or one tap mobile: US: +13017158592, 88616017925# or +13092053325, 88616017925#
Webinar ID: 886 1601 7925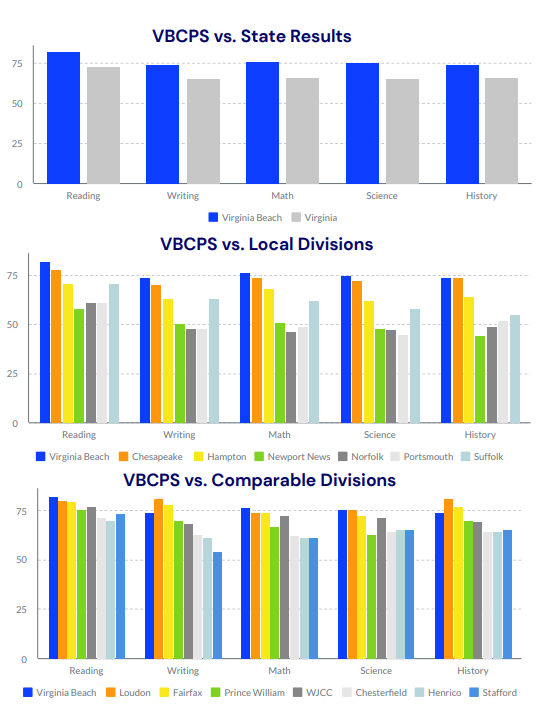 Learn more about Virginia's revised Standards of Accreditation (SOA) by visiting the VDOE's website.