The news media is invited to join students, educators and community members to celebrate a hands-on training partnership for future skilled workers. The Virginia Beach Education Foundation will host a groundbreaking 12:15 p.m. Thursday, Oct. 13, at 1512 Indiana Ave., which is the site of the 12th home of "The House Students Built" project.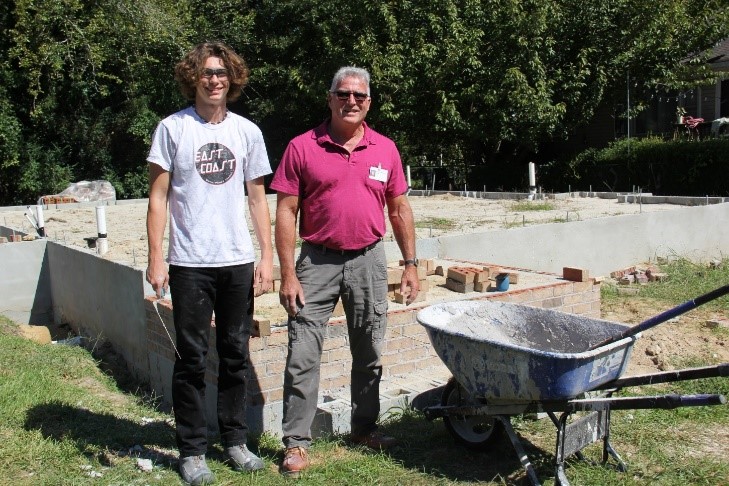 Student Aidan Bubb and masonry teacher Charles McDaniel at the House That Students Built.
What: Groundbreaking, 12th home of The House Students Built
When: 12:15 pm Thursday, Oct. 13
Where: 1412 Indiana Ave., Virginia Beach
Students at the Technical and Career Education Center will put their skills into practice by helping build the house in the Oceana Gardens area of Virginia Beach. Senior Aidan Bubb helped lay the groundwork, teaming up with masonry instructor Charles McDaniel to build the home's brick porch.
"He taught me the basics, and then let me start working," said Aidan, who is a student at the Tech Center and at Bayside High School.
Joining Aidan at the groundbreaking will be Dr. Aaron Spence, superintendent of Virginia Beach City Public Schools; Carolyn Rye, School Board chair; and Kevin Hill, president of the Virginia Beach Education Foundation. Proceeds from the sale of the house will fund grants that support innovative learning programs for students at Virginia Beach City Public Schools.
"There's a nationwide shortage of skilled trade professionals, and the Virginia Beach Education Foundation is happy to work with VBCPS to support tomorrow's experts in masonry, electrical, plumbing, HVAC, carpentry and landscape design," Hill said.
Special thanks to Atlantic Foundations Inc., a company owned by a VBCPS graduate, for supporting The House Students Built. If you work in the building trades and want to be partner in giving hands-on opportunity to students, contact Debbie Hughes at (757) 263-1069 or [email protected].