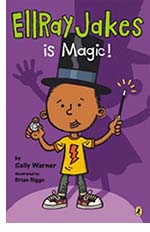 Ask any Virginia Beach fifth grader what they're reading in March, and they'll all answer the same thing - "EllRay Jakes is Magic!" That's because Virginia Beach City Public Schools is participating in an exciting literacy program called All District Reads, which puts a free book into the hands of every fifth grader and encourages them to read aloud and discuss the story with their families, classmates and community.
All District Reads is a nonprofit that partners with parents, schools and local communities to help bridge the literacy gap among elementary school students. VBCPS, in its inaugural year with the program, chose the "EllRay Jakes" book by Sally Warner because of its lively plotline about a lovable third grader whose family, friends and teachers help him overcome anxiety leading up to a school talent show.
EllRay's antics will be part of many fun reading discussions taking place during National Reading Month. Things kick off with Read Across America Day on March 2, Dr. Seuss' birthday. Students will dress up as their favorite book characters while parents and community members visit schools for story time. Music teachers will lead students in songs about reading. New Castle Elementary will host a magic show, and some schools are organizing a story walk, a fun reading activity where book illustrations are displayed along a walking route.
More than 4,700 VBCPS fifth graders will participate in All District Reads this year, with hopes to expand the program to all elementary grade levels next school year. The Noblemen of Virginia Beach and The Blocker Foundation have generously provided funding for the books and program materials.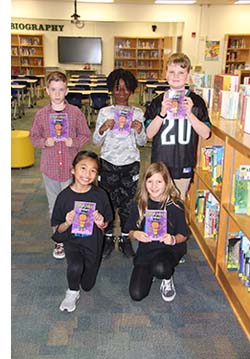 "Our hope is that students read out loud with their siblings, parents and loved ones, making this a community-wide celebration of literacy," said Superintendent Dr. Aaron Spence. A video playlist of Dr. Spence and several local celebrities reading "EllRay Jakes" is available on the VB Schools YouTube channel.
"Reading not only develops the mind, it opens up worlds of opportunity for children and adults alike, Spence said. "VBCPS encourages families and community members to explore their shared love of books, writers and storytelling.
Members of the news media are invited to cover the National Reading Month magic shows taking place at 1:30 p.m. and 2:15 p.m. at New Castle Elementary School, 4136 Dam Neck Road. After the magic shows, students will be available to talk to reporters about "EllRay Jakes is Magic!" and their love of reading. Interested new media should contact Julie Braley at [email protected].