All of Virginia Beach City Public Schools' (VBCPS) 82 testing sites are projected to earn state accreditation again for 2023-2024, following today's release of Virginia Department of Education (VDOE) Standards of Learning (SOL) test scores and school quality indicators data.
"The data shows VBCPS exceeded the state level of performance in all subject areas and outperformed all local divisions in reading, writing, and science," said VBCPS Acting Superintendent Dr. Donald E. Robertson Jr. The division outperformed seven other comparable divisions in Virginia in reading, mathematics and science, and data shows that VBCPS continues to excel, exceeding pre-pandemic pass rates in Geometry, Algebra II and Earth Science.
ESSER III pandemic funds designed to address learning loss had a positive impact on test scores by providing robust summer school programs, tutoring, reading literacy, and mental health support for our students. The funds also supported after-school enrichment programs, social and emotional learning activities, and outreach to our English Learning students.
Staff will continue to review and use the pass-rate data to guide division and school level planning for the upcoming school year, with an intense focus on improvement and continuing to meet the needs of all learners.
"We know we have more work to do to continue to increase our performance, and we look forward to learning more about the VDOE's new method for classifying students 'at risk'," Robertson said. "We remain focused on embracing challenges and continuing to be a world-class school division."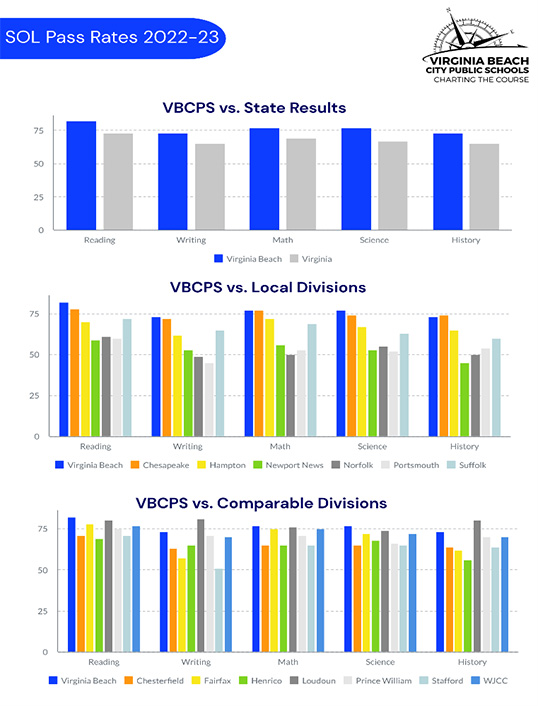 Learn more about Virginia's revised Standards of Accreditation (SOA) by visiting the VDOE's website.