— Social Media & Your Career —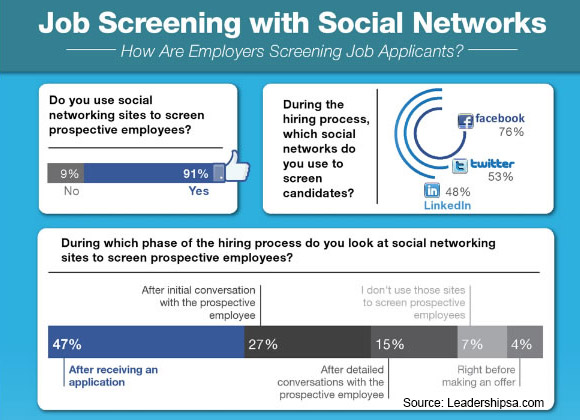 More employers are checking
According to a new national survey conducted online on behalf of CareerBuilder, 70 percent of employers use social media to screen candidates before hiring.
Red flags
More than half of employers (54 percent), according to Huffington Post, have found content on social media that caused them not to hire a candidate for a position. Of those who decided not to hire a candidate based on their social media profiles, the reasons included:
39 percent posted provocative or inappropriate photographs, videos or information.
38 percent posted information of them drinking or using drugs.
32 percent had posted discriminatory comments related to race, gender, and religion.
30 percent had bad-mouthed their previous company or fellow employee.
27 percent had lied about their qualifications.
27 percent had poor communication skills.
22 percent had screen nameís that were unprofessional.
Donít be one of the 88 percent of kids who say they overshare on social media. Remember, everything on the web lives forever.
Lead by example
If commentary online about a specific issue becomes more negative or aggressive, remember that posts can live forever online. Be smart and remove yourself from a situation that could have personal/professional repercussions.
VBCPS Guidelines
Since 2013, VBCPS administration has had its own set of Social Media Guidelines in place for staff members to adhere to. They have been updated two times since they were originally drafted and include reminders about remembering school values, maintaining professional decorum and taking caution in posting about personal activities.